Continuing past the Vestry, one can enter the Lady Chapel.
There are three windows within the Lady Chapel. The East Window depicts the four gospellers, surmounted with Christ as the Lamb of God. Hidden by the reredos are the bottom four panels which show the head of a man, lion, ox and eagle, as derived from Ezekiel 1:10 and Revelation 4:7, the symbolic heads of the four Evangelists. Similar representation exists in the east window of the Chancel. The window in the south wall of the Lady Chapel Sanctuary depicts the coats of arms of the Browne and Parker family of Sweeney Hall. Another window in this wall, nearer to the rear of the Chapel, shows the Feeding of the Five Thousand and women and children, and is a memorial to Thomas Salwey, Vicar from 1825 to 1871

The ornate Latin memorial near the door to the office is to James Donne, a Christian Scholar, Vicar of Llanyblodwell (1796-1833) and headmaster of Oswestry School (1798-1833)
There is a fine carved wooden reredos behind the altar, installed in 1902 in memory of Stanley Leighton. The middle section depicts the Annunciation. Either side are four female saints with local connections.
On the left is St Melangell with the hare which she saved from a hunting party led by Brochwel Yscythrog, Prince of Powys. She is linked with her lovely remote church at Pennant Melangell near Llangynog, now a centre for meditation and healing.
The next saint to the right is St Winifred, holding her head, which was cut off by the sword of Caradoc, a rejected suitor. Her head was restored by St Bueno, her uncle, and the place became a site of pilgrimage in North Wales. There is a more local St Winifred's Well at Woolston, a few miles south of Oswestry, now in the hands of the Landmark Trust.
The third saint is St Bridget, or St Ffraid, an Irish saint with a connection to Llansantffraid-ym-Mechain just over the Welsh border. She has a flame, as a fire was kept burning in her honour in Kildare for centuries.
The fourth saint is now known to be St Marchell or Marcella, despite some earlier confusion with St Werburgh. St Marchell is holding the Abbey which she founded at Ystrad Marcella near Welshpool. She is the dedicatee of St Marcella's Church, Denbigh.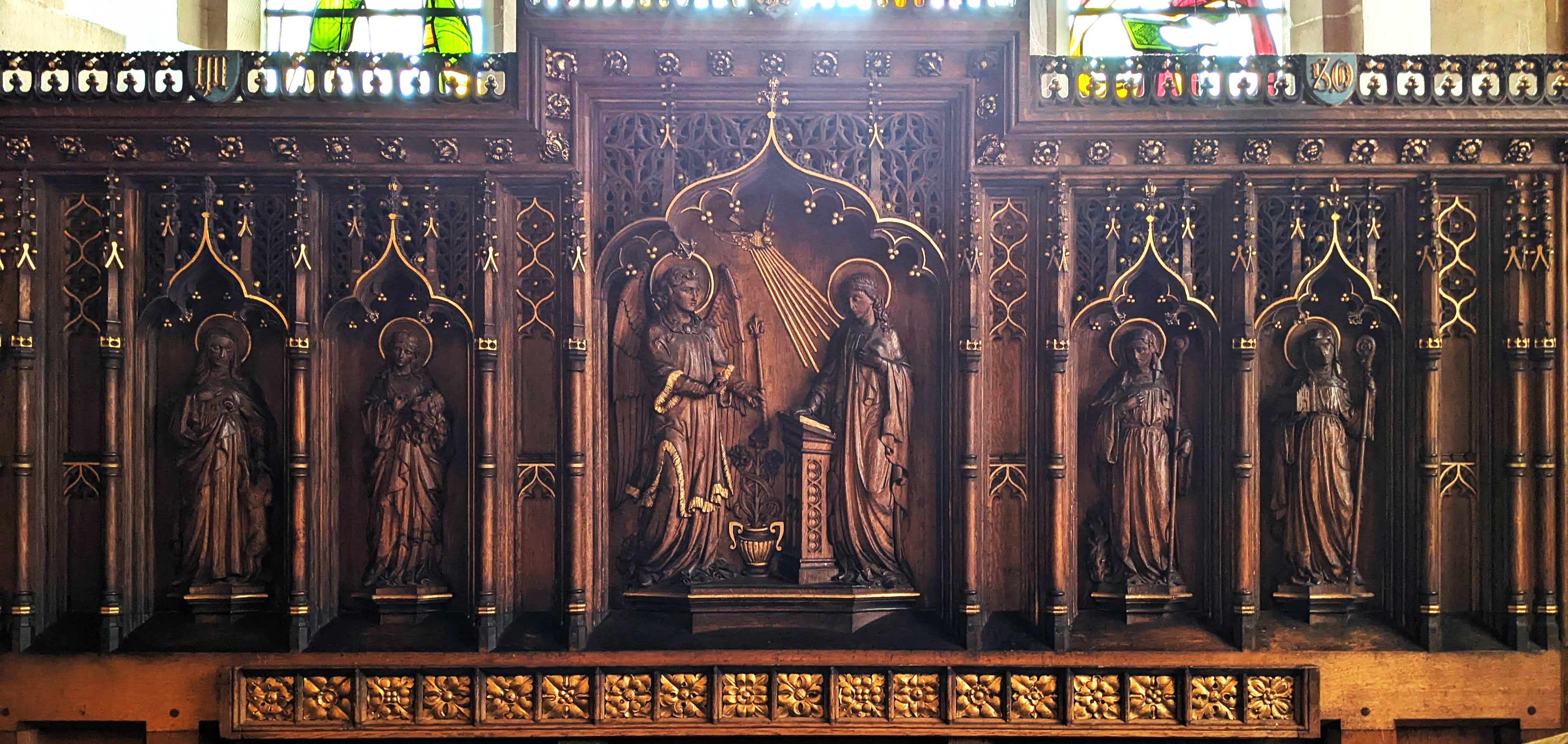 On the south wall of the Lady Chapel there is a large triptych with full length figures of Moses and Aaron holding the Ten Commandments. On either side are the Lord's Prayer and the Apostles' Creed. The triptych was one of the objects consigned to the tower for safe keeping before the restoration of the building in 1882-4, along with gravestones and memorials. Before that time it was behind the High Altar where the East Window is now. According to the Churchwardens' accounts, the painting wasl done in 1716 or 1717 by John Downes of Whitchurch. It was probably one of the last items to have completed the earlier restoration after the Civil War. In 2004 it was taken from the tower and restored by Hirst Conservation, bringing out its lovely colours, and put into its present place.